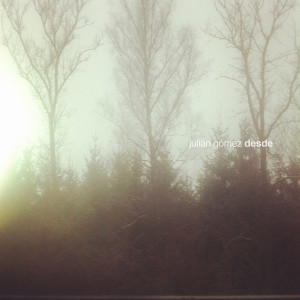 This work is licensed under a Creative Commons Attribution-NonCommercial-NoDerivatives 4.0 International License.

Parte de una trilogía que se completa con Afuera y Borroso , el álbum contiene guiños al minimalismo del glitch, al aislacionismo y al techno ambient. A partir del eclecticismo estético y técnico, Gómez fuerza los límites del género, construyendo con detallada calma atmósferas de oscura belleza eléctrica que desafían la escucha pasiva propia de la música ambient.
Part of a trilogy along with Afuera and Borroso , this album reaches out at once to minimal glitch, isolationism and techno ambient. Through aesthetic and technical eclecticism, Gómez stretches the limits of the genre, building with care and detail, dark atmospheres of electric beauty that defy the passive listening typically associated with ambient music.
CRÉDITOS | CREDITS
Compuesta, producida, grabada y mezclada | Composed, recorded, mixed and mastered by JULIÁN GÓMEZ
Fotografía | Photo  JULIÁN GÓMEZ
Diseño | Design PABLO VERÓN
Texto | Liner Notes ALMA LAPRIDA
Producción ejecutiva | Executive producer NICOLÁS VARCHAUSKY
Tarjeta USB Edición limitada de 15 unidades numeradas | Limited Edition of 15 USB Cards