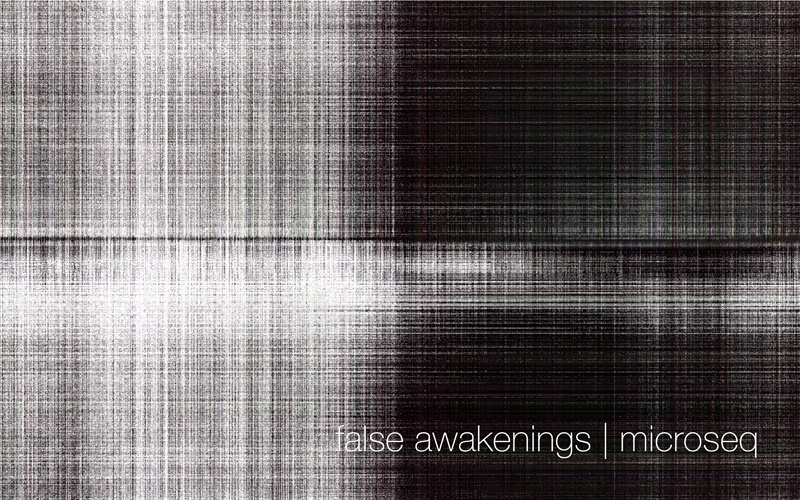 False Awakenings por Microseq se distribuye bajo una Licencia Creative Commons Atribución-NoComercial-SinDerivar 4.0 Internacional.
False Awakenings is a blend of abstract rhythmical patterns, evolving ambient landscapes and detailed sound design. Audible generative structures provide the canvas for a visual interpretation of time – motion and memory. In the USB edition you'll get 2 HD videos where Microseq creates an immersive audiovisual world, a temporal construct of bass, light and colour.
A false awakening is a vivid and convincing dream about awakening from sleep, while the dreamer in reality continues to sleep. Each and every day I see people responding to the challenges of our times, the failure of our economic and cultural system and the many ways individuals are trying to overcome the crisis. It all seems to work out for a while until we find out we are on the wrong path again.
False Awakenings es una mezcla de patrones rítmicos abstractos, ambientes evolutivos y diseños sonoros de exquisita precisión. Estructuras sonoras generativas proveen el lienzo para una interpretación visual del tiempo – movimiento y memoria. En el USB encontrarán 2 videos en HD donde Microseq crea un universo audiovisual envolvente; una construcción temporal de frecuencias graves, luz y color.
Un Falso Dspertar es un sueño vívido y convincente en el que creemos despertarnos, mientras en realidad continuamos durmiendo. Cada día vemos gente que intenta lidiar con los desafíos de nuestro tiempo, el agotamiento de nuestro sistema económico-cultural y las muchas maneras en que intentan superar la crisis. Todo parece funcionar hasta que nos damos cuenta que hemos vuelto al camino equivocado.
Credits
Produced by Pandelis Diamantides
[ir004] Inkilino Records.
With support from Bigo & Twigetti.
www.microseq.info
www.falseawakenings.info
www.pandelisdiamantides.com