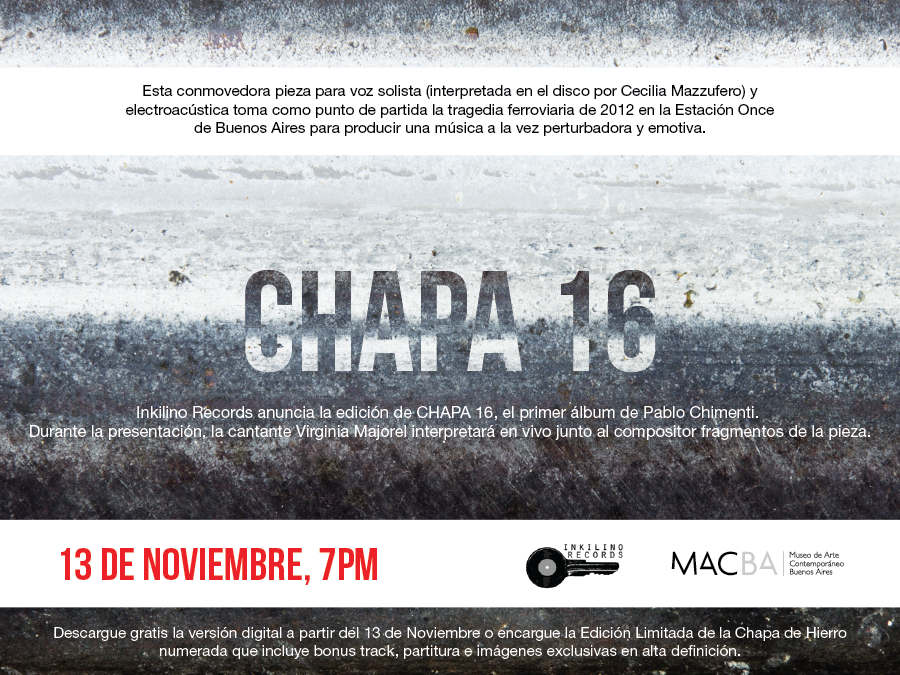 GACETILLA DE PRENSA
Inkilino Records anuncia la edición de CHAPA 16, el primer álbum de Pablo Chimenti. Esta conmovedora pieza para voz solista (interpretada por Cecilia Mazzufero) y electroacústica toma como punto de partida la tragedia ferroviaria de 2012 en la Estación Once de Buenos Aires para producir una música a la vez perturbadora y emotiva. Descargue gratis la versión digital a partir del 13 de Noviembre o encargue la Edición Limitada de la Chapa de Hierro numerada que incluye bonus track, partitura e imágenes exclusivas en alta definición.
ACERCA DE PABLO CHIMENTI
Pablo Chimenti es compositor, artista sonoro y performer. Su producción artística hace foco en el sonido y su entorno, en la voz y su campo discursivo, y en la relación entre las fuentes acústicas y electrónicas. Compone además música para teatro y la escena audiovisual. Fue miembro fundador del grupo "Buenos Aires Sonora" (BAS). Es docente en la Licenciatura en Composición con Medios Electroacústicos de la Universidad Nacional de Quilmes (UNQ), en la Universidad Nacional de las Artes (UNA) y en la Fundación Universidad del Cine (FUC). http://pablochimenti.blogspot.com.ar/
ACERCA DEL ÁLBUM DIGITAL
La descarga de CHAPA 16 incluye un texto de Martín Liut acerca de la obra. Aquí un fragmento: "Es una música lenta, casi detenida, después del tiempo vital, detenido injusta y abruptamente para todos los que venían en ese tren.
La música, en obras como 'Chapa 16', parece capaz de eso, de con-movernos espacial y temporalmente. Y dejarnos en un momento infinito en el que convergen a través del arte las voces, las máquinas, las respiraciones, los latidos."
LA EDICIÓN LIMITADA CHAPA DE HIERRO
La versión física de CHAPA 16 es una Edición Limitada de 200 chapas de hierro numeradas que incluyen un código de descarga personal para acceder a ítems exclusivos extras: la partitura de la obra, material fotográfico en alta definición de Ximena Martínez y un bonus track con la grabación de campo original realizada en la Estación Constitución utilizada en el track 4.
PARA AGENDAR!
Disponible online a partir del 13 de Noviembre de 2015.
ACERCA DE INKILINO RECORDS
Inkilino Records es un sello virtual que ofrece música experimental auto-producida por artistas que trabajan en la intersección entre la composición, la performance y el arte sonoro, combinando el desarrollo de sus propios instrumentos (virtuales y físicos) con la investigación artística.
PRESS RELEASE
Inkilino Records announces the release of CHAPA 16, the debut album by Pablo Chimenti. This deeply moving piece for solo voice (performed by Cecilia Mazzufero) and electroacoustic sounds references the tragedy occurred in 2012 at Estación Once main train station in Buenos Aires, to produce a shocking and emotional music. Get the digital release by November 13th or get the limited edition Iron Plaque with bonus track, score and exclusive high definition prints.
ABOUT PABLO CHIMENTI
Pablo Chimenti is a composer, sound artist and performer. His artistic production focuses on sound and its environment, the voice and its discursive field and the mixture of instrumental and electronic sources. He composes music for theatre, visual arts, and cinema. He was founding member of "Buenos Aires Sonora" (BAS). He teaches in the Electroacoustic Music Composition degree at University of Quilmes (UNQ), the National University of Arts (UNA) and the University Film Foundation (FUC). http://pablochimenti.blogspot.com.ar/
ABOUT THE DIGITAL ALBUM
The digital download of CHAPA 16 includes liner notes by Martín Liut. Here's a short excerpt: "It is a slow music, almost at a standstill, after a lifespan, stopped abruptly and unfairly for all those who were on the train.
In works like 'Chapa 16', the music seems capable of that same thing, of moving us temporarily and spatially. And of abandoning us in an infinite moment in which, through art, the voices, the machines, the breaths, and the heartbeats all converge."
THE LIMITED EDITION IRON PLAQUE
The physical version of CHAPA 16 is a Limited Edition of 200 Iron Plaques including personal download codes to exclusive extra items: the score of the piece, special high def photographs by Ximena Martínez and a bonus track of the raw field recording at Estación Constitución featured in track 4.
SAVE THE DATE!
Available online by 13 NOVEMBER 2015.
ABOUT INKILINO RECORDS
Inkilino Records is a netlabel offering experimental music self-produced by artists working on the intersection of music composition, performance and sound art, and combining the development of their own instruments (virtual and physical) with artistic research.