DOWNLOAD THE DIGITAL ALBUM OR GET THE LIMITED EDITION USB DRIVE!
PRESS RELEASE
Inkilino Records is proud to announce the release of False Awakenings, the new album by Microseq. This project by Pandelis Diamantides combines elements of electronic "art" music and electroacoustic composition with sound design and pop music. He uses a complex network of algorithms and digital signal processors to manipulate, deconstruct and decompose sounds, creating an immersive sonic world described as "…rush hour traffic inside electric wires". Name your price, get the digital release starting on May 11th, or get the Limited USB Drive Edition before they are all gone!
ABOUT MICROSEQ
Pandelis Diamantides (aka Microseq) has been active at the intersection of electronic "art" music (academic/non-academic), "new" music and "pop" electronic music; trying to reinvent the media of electronic music production and redefined aesthetics as to approach a broader audience to communicate an artistic message talking the language of "pop" culture while using cutting-edge techniques for music composition and performance. This tendency is a manifestation of a post-digital (music) culture.
ABOUT THE DIGITAL ALBUM
Microseq brings us in this new release an immersive post-digital sonic world enhanced by the physicality of real-time manipulation of sound-synthesis parameters. Sound is manipulated and deconstructed through a complex network of algorithms and various digital signal processing units. Microseq's novel (sonic) world pursues musical discourse in terms of developmental sound design, where different styles and forms are being introduced, decomposed and warped.
ABOUT THE LIMITED EDITION USB DRIVE
False Awakenings is a blend of abstract rhythmical patterns, evolving ambient landscapes and detailed sound design. Audible generative structures provide the canvas for a visual interpretation of time – motion and memory. In the USB edition you'll get 2 HD videos where Microseq creates an immersive audiovisual world, a temporal construct of bass, light and colour. Order the USB Drive now for only $12 + shipping and get also 10 uncompressed audio tracks, slides and prints!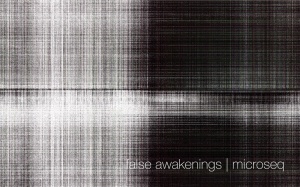 COMUNICADO DE PRENSA
Inkilino Records tiene el orgullo de anunciar la edición de False Awakenings, nuevo álbum de Microseq. Este proyecto de Pandelis Diamantides combina elementos de la composición electroacústica, el diseño sonoro y la música pop. Utiliza una compleja red de algoritmos y procesadores digitales de señal para manipular, deconstruir y descomponer sonidos, creando un universo sonoro envolvente descrito como "… el tráfico en la hora pico dentro de cables de alta tensión". Ponga su precio y descargue la versión digital a partir del 11 de Mayo u obtenga la Edición Limitada en USB antes de que se acaben!
ACERCA DE MICROSEQ
Pandelis Diamantides (aka Microseq) es un artista muy activo en la intersección de la música electrónica (académica y no académica) y la nueva música electrónica pop, intentando redefinir sus medios de producción y estética para poder abarcar un público más amplio y comunicar su propuesta utilizando un lenguaje tomado de la cultura pop pero usando técnicas innovadoras de composición y performance. Esta tendencia es propia de una cultura musical post-digital.
ACERCA DEL ÁLBUM DIGITAL
Microseq nos ofrece un universo sonoro post-digital envolvente, realzado por la fisicalidad de la manipulación en tiempo real de parámetros de síntesis sonora. El sonido se transforma y deconstruye a través de una compleja red de algoritmos y procesos digitales. El novedoso universo sonoro de Microseq entiende el discurso musical en términos de diseño sonoro en desarrollo, donde diversos estilos y formas se introducen, se descomponen y se deforman.
ACERCA DE LA EDICIÓN LIMITADA EN USB
False Awakenings es una mezcla de patrones rítmicos abstractos, ambientes evolutivos y diseños sonoros de exquisita precisión. Estructuras sonoras generativas proveen el lienzo para una interpretación visual del tiempo – movimiento y memoria. En el USB encontrarán 2 videos en HD donde Microseq crea un universo audiovisual envolvente; una construcción temporal de frecuencias graves, luz y color. Pídalo por USD12 más gastos de envío y obtenga además 10 tracks de audio sin comprimir, imágenes y fotos en calidad para impresión!