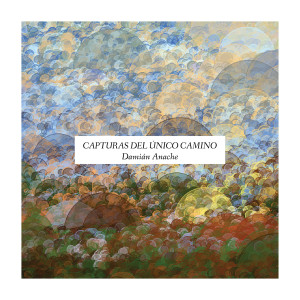 Capturas del único camino por Damián Anache se distribuye bajo una Licencia Creative Commons Atribución-NoComercial-SinDerivar 4.0 Internacional.

Capturas del Único Camino es un álbum de ambient generativo, compañero ideal para un momento de relax; y a la vez es un atractivo objeto de pasiva contemplación. Damián Anache proclama, en su álbum debut, a la computadora como un intérprete vivo, y para sostenerlo escribió un algoritmo que manipula grabaciones de instrumentos acústicos, sonidos generados con la boca y tracto vocal, sonidos generados por síntesis y diversos registros de agua. Ese algoritmo de interpretación involucra un listado de pautas y acciones mediadas por elecciones aleatorias, según el modelo que propone la partitura para la primer sección. Pero Capturas del Único Camino es más que un proyecto sonoro, ya que el software que generó la música también genera imágenes, como la que aparece en la tapa del disco, permietiendo presentar el proyecto en otros formatos, como el de una instalación audiovisual. En todos esos casos, la suma de los componentes sonoros y visuales que integran la obra, ofrecen un distendido recorrido por paisajes abstractos.
Capturas del Único Camino is a generative ambient album, the perfect company for a moment of relaxation; and also a beautiful object for passive contemplation. In his debut album, Damián Anache thinks about the computer as a live performer that manipulates acoustic instruments, vocal utterances, synthetic sounds and water recordings. The algorithm he designed involves a list of directions and actions subjected to random choices according to the model proposed for the piece's first section score. But Capturas del Único Camino be is far more than an sound project, since the software Anache wrote also generates images, allowing for the project to be presented in diffferent formats, like an audiovisual installation. In all these cases, the combination of sounds and visual components that make up the work offers a relaxed tour through abstract scapes.
CREDITS
Composición, generación de imágenes y concepto de packaging – Damián Anache
Realización de packaging y diseño – Emmanuel Orezzo
Productor ejecutivo – Nicolás Madoery
Co-productor ejecutivo – Nicolás Varchausky
Esta obra está publicada bajo la Licencia: Creative Commons Atribución-NoComercial-SinDerivar 4.0 Internacional.
Editado por Concepto Cero e Inkilino Records con el apoyo del proyecto de Investigación "Síntesis espacial de sonido en la música electroacústica", Director: Oscar Pablo Di Liscia, Co-director: Mariano Cura, Universidad Nacional de Quilmes.
Agradecimientos
Esta obra no hubiese existido sin el cariño de las siguientes personas: Lucía Leyton; Adriana Roseano; Nicolás Madoery; Nicolás Varchausky; O. P. Di Liscia, M. Cura, L. Samaruga y M. Martínez; Mariano Cifre; Ramiro Vila Da Vila; Luis Albornoz; Roy Milan Johansen; Ángel Del Ré y por sobre todo al de mi Familia: Horacio, Silvia y Paula.